With Over 3,500 Grades of Steel, Which Grade Is Right for Your Application?
Industrial Knives Technology Handbook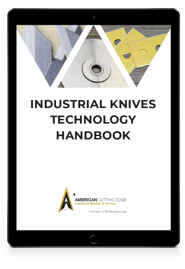 With so many options to choose from, it's often a daunting task to pick the right material, hardness, and blade type for your industrial knife process.
This handbook will help you determine which material to select, guide you during discussions with your knife supplier, and serve as your easy reference guide during your industrial knife selection process.This go-to handbook is an essential resource for your industrial knife ordering process.
Download the 'Industrial Knives Technology Handbook'' to learn more about:
basic steel, carbide and ceramic, brazing and more
various types of knife edges and bevel grind types typical knife terminology
how to select the ideal grade of steel for your industrial cutting application
Fill out the form to the right to download the handbook and gain access to this indispensable industrial cutting guide.